2019 is marching on, with all major car brands continuing to launch their new models onto the Irish market. While not all 'new' models will wind up in contention for the 2020 Irish Car of the Year awards, in association with Continental Tyres, we're keeping a close eye on all new arrivals anyway.
After all, if you're in the market for a new vehicle then the more information you have at your fingertips, the better! Here's our latest batch of 'ones to watch', starting with an eye-catching compact crossover from our friends at Volkswagen.
Volkswagen T-Cross 1.0 TSI petrol
A very strong addition to one of the most competitive segments in today's fast-changing market, the VW T-Cross is instantly recognisable with bold new lines that accentuate and add muscle to an already distinctive, off-road look.
Inside, take your pick! The T-Cross comes with a range of standard interior and individual design options, as well as a choice of three packages and three different designs to choose from. Stylish and extremely comfortable, the new VW crossover also features lovely indirect background lighting that comes into its own on night-time journeys.
The driving experience is also pretty special. An innovative Active Info Display (available on request) shows all key driving data, while a host of safety, infotainment and driver assistance features make life easy. There's also a raised seating position to give a bird's eye view of the road – or whatever you're driving on.
Volvo V60 Cross Country D4 diesel
Already one of the most visually attractive mid-sized family estates out there, the new Volvo V60 Cross Country enhances the range in truly gorgeous style.
As you'd expect from the nameplate, the new V60 Cross Country comes bristling with benefits: a powerful range of engines, advanced chassis and choice of driving modes. The interior is all Scandinavian craft and know-how, underpinned by smart technology and driver features designed to put a smile on the most discerning of faces.
Flexibility is key to any estate, and the V60 offers a handy 60:40 rear seat split, optional electrically operated folding backrest, as well as one of the biggest load compartments in the class (a whopping 500+ litres). Practicality does not come at the expense of performance, however, with sporty driving dynamics and optional settings for the engine, gearbox, steering, brakes, stability control and even the engine stop/start function.
The Volvo V60 Cross Country has been making waves since it arrived in Ireland, its stunning looks backed up by some serious driving prowess. Well worth checking out.
BMW 745 Le xDrive hybrid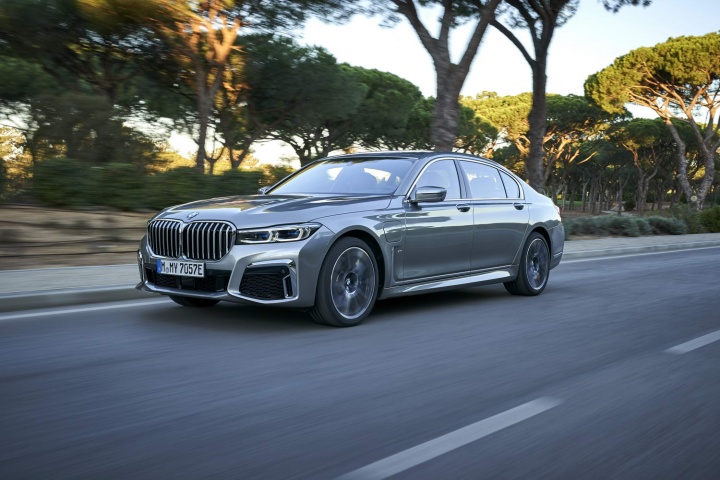 In the rarefied atmosphere of the BMW 7 Series, the revamping of the plug-in hybrid option – the 745e – is noteworthy on a number of levels.
While its predecessor teamed an electric motor with four petrol cylinders, the 745e offers no less than six petrol-fed cylinders as well as a lithium ion battery that is the same size as before but significantly more powerful (12kWh). BMW's plush new hybrid also offers a choice of new driving modes, including the option of locking the engine in electric mode.
At the upper end of hybrid performance, the 745e really benefits from that extra pair of cylinders to offer serious acceleration and driving dynamics that are as refined as you would expect.
On the technology front, the new 745e is at the forefront of innovation. BMW's Intelligent Personal Assistant is there to answer any question you might have – or check your emails for you – while advanced features including Driving Assistant Professional, Steering and Lane Control Assistant, Parking Assistant Plus and Reversing Assistant ensures help is always at hand.
More to come… lots more!
Hope you enjoyed our latest round-up of ones to watch. We'll continue to monitor the market and bring you all the news and new arrival from the frontline of automotive technology. Watch this space!