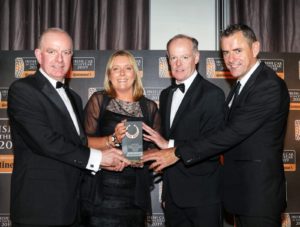 The Nissan Leaf e-Pedal has won the special Innovation Award at the 2019 Irish Car of the Year awards, in association with Continental Tyres.
The e-Pedal is part of the Nissan Leaf's array of intelligent power features, enabling the driver to accelerate, decelerate and come to a complete stop with a single movement. The e-Pedal is designed to give the driver better control going up or down hills or when driving on winding roads.
The Innovation category was a closely-fought affair, with Nissan's e-Pedal seeing off competition that included the Audi A8's Level 3 Autonomy, Citroen's Advanced Comfort Seats, Citroen's Progressive Hydraulic Cushion Suspension, Mercedes Benz's MBUX interface, the Volvo XC60's Run off Road Mitigation and the Volvo XC40's Smart Storage.
The 2019 Innovation Award was presented at this evening's Irish Car of the Year awards, which took place at the Gibson Hotel, Dublin. The Nissan Leaf was also named Green / Efficient Car of the Year.
Congratulations to Nissan!